All our food is made with care and attention to high standards by our experienced chefs.
We aim to delight diners with every dish that comes out of our kitchen.
Whether it's our selection of sharing snacks and platters, great value main meals or fantastic new pizzas.
SEE OUR FOOD MENUS BELOW – Check out the full selection of food and cocktails on offer.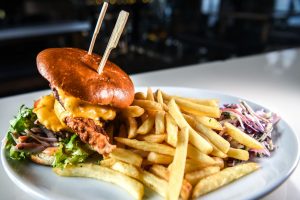 THE ORIGINAL BURGER – £5.90
Double Beef Patty, Cheese, Diced Onion, Tomato, Salad, Pickle & Ketchup.
KING PIG BURGER – £6.00
Double Beef Patty, Cheese, Pulled Pork, Coleslaw, Onion, Salad, BBQ Sauce.
TOWER BURGER – £6.50
Double Beef Patty, Cheese, Fried Chicken, Salad, Pickle, Tomato, Coleslaw and Baconaise.
256 BURGER – £6.00
Fried Chicken, Cheese, Hash Brown, Onion Rings, Diced Onion, Sriracha, Mayo and Salad.
HALLOUMI BURGER – £4.90 Vegetarian
Seared Halloumi, Salad, Guacamole, Chipotle sauce and Mayonaise.
BANGKOK BAD BOY – £6.00 Vegan
Orential-Style Vegan Bean Patty, Vegan Mayo, Tomato, Salad and Guacamole.
MOVING MOUNTAINS BURGER – £5.95 Vegan
Moving Mountains Patty, Vegan Cheese, Vegan Mayo, Salsa, Red Onion and Salad.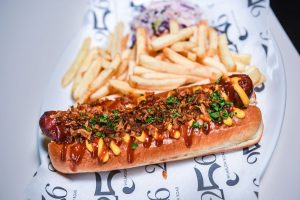 MODERN COCKTAILS
All of our delicious cocktails are made in front of you with fruity Funkin cocktail mix.